I was motivated to get a blog post up this weekend because my awesome bloggety-friend, Mel, from Junkin' Junky is hosting her first link party called "Beautiful Junk Saturday"!!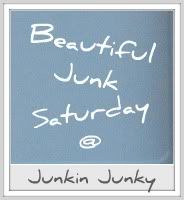 I just had to be a part of it. :)
And since I haven't been posting much lately because of school, I figured I'd show several projects I've done recently for my boutique wall at The Emporium in Greenwood, IN.
Let's see....first up is the, um, lovely apple recipe holder I picked up at Goodwill.
After lots of sanding, some black spray paint and some awesome scrapbook papers, I had this.
It went straight to the booth, but I will be honest, I will not be heartbroken if it doesn't sell because I am completely in love with it! :)
Second is the little plate I also found at Goodwill. I loved the shape.
I decided it would make a really cute chalkboard for the kitchen.
It was the first time I worked with chalkboard paint. It took at least 4 coats, maybe more, but I was impressed with how well it worked when done.
Shhhh, don't tell anyone but I have another plate so I can make one for myself. too. ;)
I only make things for the booth that I would love to have myself....which makes selling my own handmade creation super tough! I want to keep everything I sell! LOL
So, that brings to my third Goodwill upcycle. An old wood taper candle holder.
I'm not a fan of tapered candles, they just drip all over the place for me and it bugs me. So, I took this candle holder and added a finial I purchased at Lowe's.
I used black spray paint over the whole thing to make it one large decorative finial piece. I also distressed it slightly with a gold Rub n Buff.
Another creation I had a REALLY hard time getting rid of.
And lastly, I don't have before shots, but basically I used a plain glass candle holder, hot glued burlap, some twine and an vintage jewelry piece for a, now, fancy candle holder.
Whew!! So, there you have a handful of what I've been working around here.
Some of these items have already sold at the booth and others were still there yesterday when I was there.
As an update, the booth is actually doing really well. I just wish I had more time to work on stuff for it. School has me CRAZY busy. Seriously, I do homework all. the. time! But can you believe I'm already halfway through the first semester!
Surprisingly, Algebra (remember how worried I was?) has come VERY easy to me. It's actually my easiest class! Can you believe that? LOL
Drawing is extremely hard for me, but I LOVE it! Go figure. I'm actually going to take another drawing class next semester even though it won't count toward my Interior Design degree.
And the hardest class, without a doubt, is Intro to Interior Design! There is SO much work in that class!! Architectural hand lettering...impossible! The tests and quizzes....ridiculously hard! Floor plans and elevations TO SCALE....takes forever. I have serious concerns about my end grade in that class....can you believe that?!?! It's quite shocking to me. Who would have dreamed THAT would be the class to give me heartburn.
Don't get me wrong...I enjoy every single bit of what we are learning. It's just an overwhelming amount of work. My ever so slight perfectionism might, just maybe, be a part of that....but....nah....that can't be it. ;)