Finally, a No Function Friday that does NOT involve the Dollar Tree…although they did only cost me a dollar. ;)
About six months ago I got really inspired by all the jute projects I was seeing in blogland. So, I decided I needed to try it too! You know how that goes. LOL
This was well before I decided to start my own blog, so I have no before pictures. But here is the lamp shade I redid (on a clearance lamp I got at Lowe's years ago).
Now, fast forward four or five months, while I was redoing my living room and kitchen last month to my current color scheme, I realized my chandelier in my kitchen needed something...um...more.
White shades are SOOO yesterday! ;)
So, I set about hot gluing jute to each of my shades in the dining room!
(And as a side note, these shades were only $1 each!! If you have a Christmas Tree Shop near you and haven't been there yet….GET THERE ASAP! It has some of the most amazing deals! And usually some pretty cool stuff on the cheap!)
And it's literally that easy. I spent a two or three evenings on the couch, coffee table pulled up, watching TV and gluing my fingers jute to each shade.
The only way I know to describe this look is to use the word 'organic.' It just looks more 'earthy' and that is a look a like.
So, here is the finished product!
And a side by side, before and after:
Total cost:
5 Lampshades - $5
Jute (2 rolls) - $6 (I think I paid about $3 per roll)
Hot Glue - $1 (at Dollar Tree! You knew I had to throw DT in her somewhere, LOL)
So, this chandelier makeover cost was $12! :)
Until next time…
I am linking up to some new par

ties this week: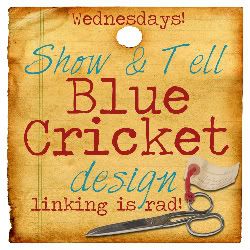 And some of my regular parties: