Check out my new digs!!! :)
My new design is up and running and I couldn't be more pleased!!! I'm SOOOO flippin' excited to have my own personal design I cannot see straight!!

(Or that could be from my lack of sleep and

Lucy

having an anxiety attack last night...which I think might have been because of all the snow on the ground...but I digress).
Jenn at
Munchkin Land Designs
did a fantastic job, don't you think? She was so easy to work with...and didn't even get mad when I mentioned something about changing the 'dead flowers' in my signature. ;)
She definitely gets my seal of approval! I figure when family and friends that know me personally say "It is so YOU!"... then she captured the essence of me! :)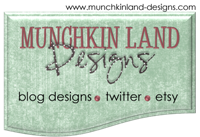 I feel so official now....I'm all giddy!
BTW...is there an intervention for exclamation points!?!?!?!?!? I feel I might be at that point! ;)