Christmas is done already!!
I know that's what you are saying about me still sporting my Christmas blog layout.
But there is a reason...I swear!!
Actually, really, I do...ALOT! It's not very feminine or Christian of me....I'm working on it!
But, that's not what I meant. I swear there is a reason I have not changed my page yet!!
And it has to do with this lady...Jenn at Munchkin Land Designs.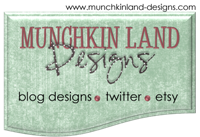 And that's all I'm telling you! :P